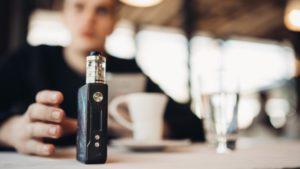 Countless people were relieved to find out vaping was a "healthier" alternative to addictive, cancer-causing tobacco. These devices have been craftily marketed as such ever since, encouraging over 10 million people to start using them in the United States, according to a 2016 survey conducted by researchers. New studies have uncovered that this alternative isn't actually the solution to quit smoking cigarettes that we've always wanted, causing many people to ask, "Can vaping put your smile at risk in Midtown East?" Read on to learn about the health dangers associated with vaping and using e-cigarettes that have been recently revealed.
THE FACTS BEHIND VAPING IN THE UNITED STATES
A survey published by the American College of Physicians in 2018 set out to find out just how many people regularly vape and use e-cigarettes in the United States. They found that over half of the current users were between the ages 18 and 35, and primarily consisted of LGBTQIA+ community members and men. This year alone, the United States has reported 450 cases of illness tied to using e-cigarettes along with at least six deaths.
THE RESEARCH SHOWS…
These battery-operated devices function by allowing a flavored liquid to pass through incredibly hot coils, vaporizing it so it can be breathed in. There isn't a federal agency that monitors what's placed into these liquids, but they often contain nicotine, flavoring, and a variety of additional chemicals.
A biochemist from the University of Rochester in New York began looking into the connection between coughing, mouth bleeds, scratchy throats, and vaping. His team has been researching how this habit is impacting the cells in the human mouth, including ones that attach the teeth to the gums. After exposing oral tissues to chemicals from e-cigs vapors, they found that these cells can become inflamed and even cancerous.
Because electronic devices have only been around for a short period of time, the long-term health effects of them are unknown. However, inflammation is a key sign in the formation of a variety of issues such as oral cancer and gum disease. When these issues aren't diagnosed in time, they can be difficult to treat and even result in tooth loss.
PROTECTING YOURSELF AGAINST THE EFFECTS OF VAPING
If you have or currently routinely vape or smoke, it's important to establish preventive measures to protect your mouth from sustaining permanent damage. Your first line of defense is often through a dentist in Midtown. When you visit them every six months during your routine checkup and cleaning, they will provide you with an oral cancer screening and inspect your gums for any signs of infection and inflammation.
If you already have gum disease, there's no need to fret. Treatments like bacterial reduction with laser dentistry and periodontal disease therapy can reduce the effects it on your mouth. With routine preventive procedures, you can ensure that your teeth stay healthy and happy for years to come and increase your chances of successful treatment if diagnosed.
About the Author
Dr. Theodore Aaronson is a recognized and talented dentist that has been practicing in New York for over 45 years. He enjoys providing his patients with necessary preventive care so they don't have to experience discomfort or deal with the hassle of dental emergencies. He has been a guest on Fox News Channel's Weekend Healthwatch, Good Morning New York, Good Day New York, and many additional TV channels. With countless accolades and decades of experience, his patients feel safe and well-cared. For questions or to schedule an oral cancer screening, visit Dr. Aaronson & Associates' website or call 917-722-6573.