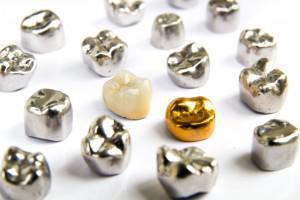 A dental crown, sometimes referred to as a "cap," is one of the most common ways dentists repair cracked, broken, and decayed teeth. It simply fits on top and encases the damaged tooth, and it can enhance a tooth cosmetically as well as restore it functionally. As with any treatment, patients always want to consider cost beforehand so there are no surprises. Today, we're going to cover what you should expect to pay for a dental crown, as well as how you can know if you need one in the first place.
HOW MUCH DOES A DENTAL CROWN COST?
The cost of a dental crown depends on a number of factors, such as the location of the tooth, the size of the tooth, as well as the material the crown is made out of.
Crowns can be made of 3 basic materials: metal, porcelain-fused to metal, and all-porcelain. Metal crowns are the most durable, and all-porcelain crowns are the most natural-looking and aesthetically pleasing, which tends to make them slightly more expensive.
Taking into account all of these factors, a dental crown typically costs about $500-$3,000. Fortunately, this kind of treatment is typically partially covered by most dental insurance plans, and many practices also offer flexible financing options with third-party companies like CareCredit. To get a more specific idea of how much a crown will cost for you, simply consult a general dentist in your area.
DO I REALLY NEED A CROWN?
Of course, after seeing the cost, you're probably asking yourself if you need a crown in the first place. Dental crowns are used to repair teeth that can't be fixed using more conservative treatments, such as fillings, veneers, or composite bonding. If you have a tooth that is severely decayed or broken, a dental crown is probably the best way to restore it. They are also necessary after undergoing root canal therapy. Also, dental crowns can be used for cosmetic as well as restorative purposes, as they can reshape teeth to make them blend better into a smile or whiten teeth that have stains that can't be eliminated with normal bleaching agents.
HOW TO GET ANSWERS
In the end, the best way to get these answers is to consult a dentist in your area. They'll be able to determine if you need a dental crown or not, and then they can go over your various options for materials and financing. In the end, if you do end up needing the treatment, you can trust that your new tooth will look great, function perfectly, and you'll always be eager to show off your smile.
About the Author
Dr. Theodore Aaronson is a general, restorative, and cosmetic dentist based in Midtown East, NYC. He has over 40 years of experience in the dental field, and he has used crowns to literally rebuild thousands of smiles over the course of his career. He currently practices at Dr. Aaronson & Associates, and he can be reached through his website or by phone at (917) 722-6573.