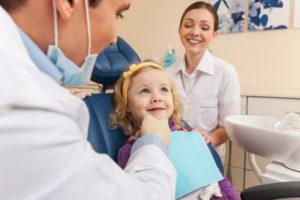 Has your child gotten old enough to actually show an interest in their dental care? Go ahead—do your happy dance! It's been a long time coming! But now, they're asking to add dental products to their hygiene routine, like mouthwashes. Are they safe for your child to use?
Learn more about mouthwash in this week's blog post—specifically when your dentist in Midtown East recommends that children start using it and what kind.
WHEN YOUR CHILD IS OLD ENOUGH, TRY TO FIND A KID FRIENDLY MOUTHWASH
Your dentist wouldn't recommend using mouthwash—especially those with chemicals like fluoride in it—until your child is at least six years old. By this time, their body should be able to handle the dental products without making them sick.
Once they are at least six years old, you can begin looking for kid friendly dental products. There are a number of mouthwashes that are designed specifically for children. These are usually alcohol free, can feature popular children's cartoons, and even come in flavors that kids enjoy like bubblegum, grape, and berry! Mouthwash for kids is usually more for fun, but it can also help prevent tooth decay from plaque buildup when used regularly.
WHAT TO LOOK FOR WHEN CHOOSING YOUR CHILD'S MOUTHWASH
FIND THE ADA SEAL OF APPROVAL
The American Dental Association (ADA) tests dental products, looking for effectiveness and safety to the oral cavity. That's why your family dentist in Midtown East suggests that you look for products with the ADA seal of approval, showing that it's passed the organizations testing.
DETERMINE THE END GOAL
What does your child want to accomplish with mouthwash? Are they just looking for an extra fun part of their dental routine? Do they want to keep their breath fresher for longer? If you know what your child wants to get from a mouthwash, then you'll be better prepared when shopping for the perfect product for them.
DIFFERENTIATE BETWEEN COSMETIC AND THERAPEUTIC MOUTHWASH
There are generally two types of mouthwashes available: cosmetic and therapeutic. Cosmetic mouthwash gives your mouth that fresh, clean breath that everyone desires. However, cosmetic mouthwash treats the symptoms of bad breath, masking the causes of the problem.
Therapeutic mouthwash helps prevent dental concerns like gum disease and cavities. Therapeutic mouthwash may not freshen your breath as well as cosmetic mouthwash, but it will address the underlying problems that could be causing it.
ASK YOUR DENTIST FOR ASSISTANCE
Mouthwash is a great tool to help your child improve their oral health. It's easy enough to ding the perfect product, too. All you have to do is ask your local dentist for a recommendation. They might even have a sample for you and your little one to try at home!
Plus, when you visit your dentist for assistance, your little one will receive a dental exam and cleaning to make sure their oral health is on track!
---
ABOUT OUR OFFICE
Here at the dental office of Dr. Aaronson & Associates, you can be confident in our dental care for all ages. We want everyone in your family to have a bright, strong smile complete with fresh breath! That's why we will always make our best recommendations for you and your family to enjoy.