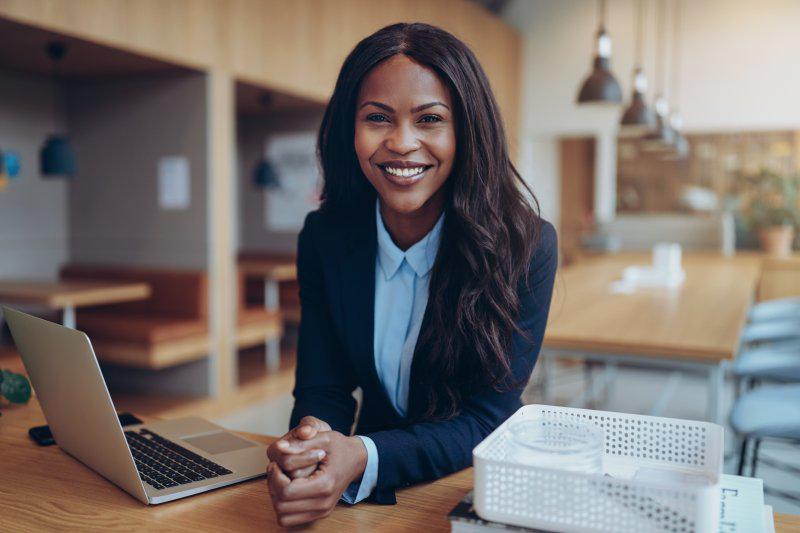 Everyone wants to have beautiful teeth, but a happy smile can actually improve more areas of your life than you think. Not only do you look great showing it off in photos and at special events, but it can also help you excel in the workplace. Even though you have all sorts of unique skills and experience that make you good at your job, your smile is the first thing that people see when you walk into a room. Your dentist in Midtown East shares some of the distinct advantages that displaying your smile can have on your professional life.
INCREASES CONFIDENCE
Having a beautiful smile can easily boost your confidence, especially if you are constantly meeting with people and trying to move up in your career. If you are shy about your teeth, you are less likely to show them off, which can make you seem less friendly and approachable as you could be.
SMILING IS CONTAGIOUS
When you are confidently showing off your pearly whites, it tends to rub off on people. After all, smiling is contagious. Having a healthy-looking smile and being perceived as more attractive is correlated with having a more likable personality. It also causes others to think that you have other desirable qualities, like extroversion, stability, and friendliness, which can help you be more successful in the workplace as well as during interviews.
INDICATES A STRONG WORK ETHIC
Having a gorgeous, healthy smile shows that you are committed to taking care of yourself. If you are able to take time to present yourself well and maintain your appearance, you are also showing that you have the potential to commit plenty of time and effort in the workplace.
MORE ATTRACTIVE
Rude behavior and people who look generally unhappy give the impression that they are untrustworthy and not nearly as approachable as someone who looks more cheerful. If you want to appear to be more attractive and put together, an attractive smile the best tool that you can use. With a simple smile, you can make a huge difference in the way that others perceive you.
REDUCES STRESS
Let's face it – work can be stressful sometimes, but by putting on a smile, you can actually reduce the amount of stress that you feel. This is because the muscles that you use to smile can cause your brain to actually improve your mood. Putting on a smile can lower your heart rate and reduce your stress levels.
With so many benefits of putting on a grin, there is no reason not to do more of it! If you're not happy with your smile or want to enhance it, talk to your dentist about possible solutions. Nothing should hold you back from showing it off!
ABOUT THE AUTHOR
Dr. Theodore Aaronson is a cosmetic dentist who has been serving New York for more than 45 years. After graduating from New York University's College of Dentistry, he served in the U.S. Army Dental Corps for two years with the rank of captain. Dr. Aaronson is an active member of the American Academy of Cosmetic Dentistry and several other professional organizations. For more information on ways to enhance your smile or to schedule an appointment, visit his website or call (917) 722-6573.