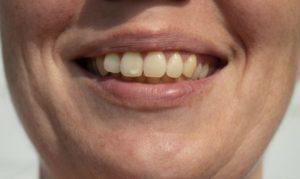 Some people have white spots on their teeth that distract from their otherwise beautiful smile, making them feel self-conscious. If this is the case for you, dental fluorosis treatment can help. When you visit your cosmetic dentist, you'll be able to erase these imperfections, leaving exquisite and even results in their path. Read on to learn what causes those spots to appear and how you can get rid of them.
WHAT CAUSES WHITE SPOTS ON YOUR TEETH?
There are several reasons why white spots have appeared on your teeth. The most common one is dental fluorosis, which usually develops because you consumed too much fluoride when you were younger. Although it's typically harmless, it can still make you feel self-conscious about letting your smile show.
Another common cause of these white spots is enamel hypoplasia, which is a condition caused by your tooth enamel not properly forming. This issue comes with a cost though, it can increase your risk of experiencing cavities and other oral health problems.
One other cause of white spots on your teeth is simply due to poor dental hygiene. If you've had braces and eat too many acidic and sugary foods, it can cause these spots to appear. The best way to learn how to get rid of them is to consult your cosmetic dentist, because they're specially trained in beautifying smiles.
TREATING WHITE SPOTS
When you visit your dentist for a consultation to address the white spots on your teeth, they'll most likely speak to you about a variety of treatments. Here are just a few, so you know what kind of options you have.
TEETH WHITENING
Professional teeth whitening uses highly concentrated ingredients to reduce the impact that white spots and stains have on your smile. The products used by your cosmetic dentist are approved by the American Dental Association, meaning they have been proven to be safe, effective, and reliable.
PORCELAIN VENEERS
For more severe cases, your cosmetic dentist may recommend porcelain veneers. These are thin, strong shells that are customized to fit over the visible portion of your teeth to conceal any imperfections, including white spots. The process takes place over three visits to your dentist and achieves drastic results.
DIRECT BONDING
Direct bonding is a great option for people with less severe cases. It's cost-effective and fast, and you'll be able to enjoy an improved smile in a single appointment. Using a custom-selected composite resin that bonds with your natural enamel, you can get your white spots concealed.
KEEPING WHITE SPOTS FROM APPEARING AGAIN
One of the best ways to prevent white spots from occurring again is to look after your oral health by watching what type of snacks and beverages you consume. Depending on what caused them, it's also a good idea to:
Speak with your dentist about what preventive measures you can take.
Test well water.
Reduce your consumption of sugary and acidic products.
Brush your teeth twice each day for two minutes.
Floss daily.
Visit your dentist every six months for checkups and cleanings.
With the right preventive measures in place and the best cosmetic treatment for your unique situation, you'll be able to boost your confidence and keep this problem from occurring again. While people with white spots on their teeth rarely need to be concerned about them damaging their oral health, it's always a good idea to speak with your dentist about them first.
About the Author
Dr. Theodore Aaronson is a cosmetic and general dentist with over 45 years of experience. Over the course of that time, he has been able to help countless patients achieve their dream smiles and boost their confidence. Because he is such a well-respected cosmetic dentist, he has appeared on countless television shows and been interviewed for several magazine articles. For questions or to schedule a consultation, visit Dr. Aaronson & Associates' website or call 917-722-6573.