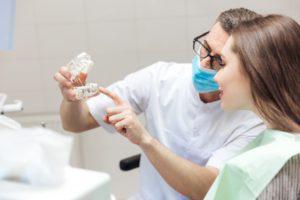 Your dentist just informed you that you should get a crown to protect and cover a tooth. You might be hesitant to get one because you don't want to spend time and money on dental work that you think you may not need. But leaving a tooth that needs a crown to fend for itself can result in other oral health problems like tooth loss. Dental crowns in Midtown East can improve your overall dental health along with your smile's appearance. Read on to find out what crowns can do for you.
WHY DO YOU NEED A DENTAL CROWN?
A dental crown is a cap that is used to cover the visible portion of the tooth. It protects your remaining natural tooth while rebuilding it to match its original shape and strength and can be made from metals such as stainless steel, porcelain, or resin. It fully encases the portion of remaining natural tooth that is left. You could need to get a crown for several reasons:
To help hold together a weak tooth and protect it from decay
To restore a broken tooth that is worn down
To cover and protect a large filling
To keep a bridge in place
To restore a misshapen or discolored tooth
To be placed atop a dental implant
WHAT BENEFITS CAN DENTAL CROWNS OFFER YOU?
Many patients don't know this, but dental crowns can go a long way towards helping your smile thrive after injuries or decay! They offer multiple benefits such as:
They can restore your tooth back to its natural form and color and make you feel comfortable smiling again.
By surrounding the entire damaged existing tooth, they act to protect and make it strong again. This can help you avoid the possibility of having your teeth extracted.
They can close spaces between your teeth for a more natural and neater smile.
You won't ever have to worry about a crown shifting or sliding because they are either cemented to your existing tooth or anchored by an implant.
Missing teeth can affect your speech, causing you to slur or lisp. Crowns can restore your confidence and speaking ability.
HOW CAN YOU MAKE YOUR DENTAL CROWN LAST?
The average lifespan of a dental crown is around 5-15 years. When they're properly taken care of, they can last up to 25. So how can you get them to last? It's best to avoid destructive habits like clenching and grinding your teeth. It can cause your crown to crack or chip. If you do this while asleep, it may be a good idea to look into getting a nightguard to help protect your crown.
Practicing good oral hygiene by brushing twice a day and flossing is important. Spend extra time cleaning around your crown and along the gumline to protect it from decay. Additionally, using your teeth to chew or bite on hard objects like ice, candy, or your fingernails can severely damage it.
Remember to schedule your semi-annual checkups and cleanings with your dentist in Midtown East as well to ensure that your crowns are functioning as they should be. In the end, it's best to consult your dentist about why you need a crown and what benefits it could offer your oral health. Don't hesitate to ask your dentist about your options and whether or not there will be any implications of waiting to get treatment. The more knowledge you have, the more comfortable you'll feel about committing to bettering your smile!
About the Author
Dr. Theodore Aaronson has been serving New York for over 45 years. As a well-respected expert, he has been interviewed by New York Magazine, Black Elegance, Bridal Guide Magazine, and Woman's Day. Additionally, as an active member of the American Dental Association and the American Academy of Cosmetic Dentistry, he is up-to-date with the most recent dental advancements. For any questions or to schedule an appointment, visit his website or contact 917-722-6573.