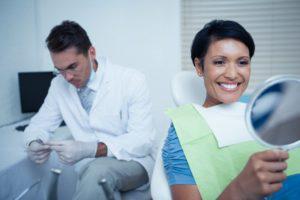 A beautiful smile is an accessory that never goes out of style! Unfortunately, many people are plagued by aesthetic imperfections in their teeth, and they might hesitate to seek out cosmetic dentistry due to concerns about cost. But did you know that dental bonding is affordable for most patients? In fact, it is among the lowest-priced cosmetic procedures. This quick and simple treatment can disguise flaws in teeth and produce natural-looking results. Let's discuss some of the factors that have a bearing on the answer to the question, "How much does dental bonding cost?"
DO YOU WANT TO GET YOUR TEETH WHITENED FIRST?
The dental bonding procedure involves molding a tooth-colored resin over teeth to hide their flaws. The resin is shade-matched to blend in with the surrounding dentition. Often, dentists will recommend that a patient gets their teeth whitened prior to the bonding procedure because the resin will not respond to whitening treatments if a patient decides to brighten their smile later on. The cost of professional teeth whitening varies from practice to practice, but it is generally affordable.
HOW MANY TEETH WOULD YOU LIKE TO TRANSFORM?
The extent of the work your dental team must do is one of the biggest factors that has a bearing on the cost of dental bonding. If you have a single chipped tooth that you would like to get repaired, you can expect a relatively low final cost for your procedure. On the other hand, if you would like to transform the appearance of multiple teeth, you can expect your financial obligation to be higher.
WILL YOUR INSURANCE HELP?
In some cases, dental bonding is considered to be a purely elective procedure — which means that insurance is unlikely to cover it. However, there are instances where your policy might apply. For example, if you have a chipped tooth, dental bonding can strengthen it and prevent its jagged edges from irritating the nearby soft tissues. It would certainly be worth your time to look into whether your insurance would cover bonding in such a situation.
WHAT IS YOUR DENTIST'S PRICING STRUCTURE LIKE?
Dentists are businesspeople, so they have many factors to consider when they are deciding how much to charge for certain services. The cost of materials, the cost of living in the local area, and the value of a dentist's training and experience can all come into play. Most dentists charge reasonable prices that are a fair competition for other nearby practices.
A BEAUTIFUL SMILE IS PRICELESS
Dental bonding is certainly one of the most affordable cosmetic dental treatments — and it can allow you to enjoy the priceless benefits of a confident smile. Why not talk to your local dentist to learn how you can take advantage of it?
Meet the Practice
Dr. Theodore Aaronson has more than 45 years of experience as a general and cosmetic dentist in New York. Together with the other dental professionals in our office, he provides a comprehensive range of services, including dental bonding. If you would like to improve the look of your smile, our team would be pleased to serve you. Contact us at 917-722-6573.