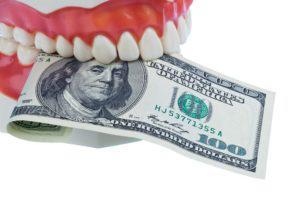 After a rough year, everyone is looking for ways to cut expenses. As a result, you might skip your semi-annual visit with your dentist in Midtown East. Unfortunately, if you don't schedule your appointment, you're opening the door to common oral health issues, which can lead to an unexpected dental bill down the road. If you want to save money, it's best to invest in a healthy smile. You can achieve optimal oral health without breaking the bank using your dental insurance. Here are 3 ways a preventive approach can lower your dental expenses.
1. VISIT YOUR DENTIST TWICE A YEAR
Dental care is designed to focus on prevention because it reduces oral health costs. Every $1 spent on prevention can save you as much as $50 on restorative and emergency services. The American Dental Association recommends everyone over the age of 2 visits their dentist at least twice a year for a cleaning and checkup. Although you may not believe you need an appointment until after a problem arises, this couldn't be further from the truth. Routine cleanings and checkups prevent common issues from occurring, like tooth decay and gum disease. As a result, you're less likely to need a costly treatment down the road.
2. MAXIMIZE YOUR DENTAL COVERAGE
Your dental insurance is a monthly investment that gives you access to affordable services to keep your teeth and gums healthy. Every plan is unique, but most cover preventive treatments 100%. In addition, you're given an annual allowance to help offset the cost of any procedures necessary to restore your oral health. Your policy can cover as much as 80% of the expense after reaching your deductible. You will have the coverage you need to maintain your dental health without worrying about an outrageous bill.
3. MAINTAIN YOUR SMILE AT HOME
Your teeth and gums also rely on your home oral hygiene habits to stay healthy. It's best to brush your teeth at least twice a day using a soft-bristled toothbrush and fluoride toothpaste. Clean all surfaces of your teeth for at least two minutes to remove harmful bacteria and plaque. You'll also need to use high-quality floss to clean between each tooth before going to bed to keep gum disease at bay. If you develop any concerning signs in between your routine appointments, like bleeding gums or tooth sensitivity, don't hesitate to contact your dentist.
INVEST IN A HEALTHY SMILE
As you look for ways to cut your expenses, don't put your smile on the chopping block. Keep your oral health a priority to lower your long-term costs for care. If you haven't had your second hygiene visit, there's still time to schedule an appointment to start the new year with a healthy smile.
About Dr. Theodore Aaronson
For over 45 years, Dr. Aaronson has provided comprehensive dental care to the community. He earned his degree at New York University's College of Dentistry. He has completed extensive training in many areas of specialty, including cosmetic dentistry. If you need a cleaning and checkup before the end of the year, contact our office today to schedule an appointment.