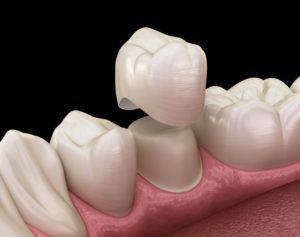 Nothing good can come from putting off treatment for a cavity. As much as we would like them to, cavities don't get better on their own. They actually get worse. They can spread to other parts of the tooth, including the sensitive nerve on the inside. Once this happens, you will require extra treatment that usually involves something called a dental crown. But what is it? And when is a dental crown needed? Read on as we answer these questions.
WHAT IS A DENTAL CROWN?
A dental crown in Midtown East is a covering that is placed over a tooth. These days they are typically made of ceramic or porcelain fused to metal. Both options can be shaded to match the color of the surrounding teeth and seamlessly blend in with the rest of your smile. More often than not, nobody else will even be able to tell you had dental work done.
Getting a crown usually requires two appointments a few weeks apart. At your first visit, your dentist will take an impression of your tooth and fit you with a temporary crown while your permanent one is being crafted in a lab. Once your crown is ready, the office will contact you and you will return to have your temporary removed and your permanent placed.
WHEN IS A DENTAL CROWN NEEDED?
Dental crowns can be used to:
Protect a tooth that has been treated with root canal therapy
Protect a cracked or chipped tooth from further damage
Support a tooth with a cavity so large that a filling would not be enough
Cover a dental implant
Conceal a tooth that is misshaped or severely discolored
HOW DO I TAKE CARE OF MY CROWN?
Once your permanent crown is placed, you can take care of it the same way you would a normal tooth – with regular brushing, flossing, and visits to your dentist. However, with your temporary crown, it's best to avoid chewing sticky or hard foods as that could dislodge or break the crown. Also, try to not floss in between the temporary and the surrounding teeth.
Dental crowns can be used to fix a wide variety of imperfections in your smile. If you think you would make a good candidate for a crown, contact your dentist today.
ABOUT THE AUTHOR
Dr. Theodore Aaronson has more than 45 years' experience of being a general and cosmetic dentist in New York. He is a member of several professional organizations, including the American Dental Association, the New York Dental Association, the American Academy of Cosmetic Dentistry, and the American Academy of General Dentistry. To learn more about he can fit you with a dental crown to restore your smile, contact him here or at (917)-722-6573.