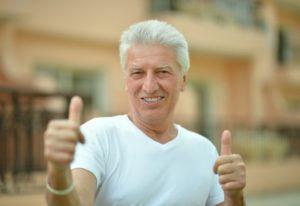 If you conduct any research into dental implantation, you'll soon discover that titanium dental implants are the most preferred way to replace missing teeth. However, you may be wondering why the material is so highly regarded by dentists. Continue reading to find out how titanium contributes to a 95% success rate!
THE DISCOVERY OF TITANIUM FOR DENTAL IMPLANTATION
In the 1950's, a Swedish physician named Dr. Per-Ingvar Branemark was doing some research on rabbits who had titanium cylinders placed near their leg bones. He discovered that the titanium cylinders had fused with the bone and were difficult to remove. Dr. Branemark referred to the fusion of the bone and titanium as osseointegration, and after conducting further research, he would go on to place the first successful dental implant in 1965.
THE BENEFITS OF TITANIUM
In addition to its ability to fuse with bone, here are some of the other advantages of using titanium implants:
BIOCOMPATIBILITY
The word biocompatibility refers to the ability of a material to perform appropriately when introduced to a natural environment. As it pertains to your oral health, it means that titanium typically doesn't cause any allergic or otherwise problematic reactions.
It should be noted that previous attempts to create dental implants failed because the metals and alloys used were rejected by the body. Because titanium implants fuse with the existing bone structure, they are able to function like natural tooth roots.
HIGH SUCCESS RATE
Because of the biocompatibility of titanium and the careful approach that dentists take, dental implantation is generally highly successful. And by undergoing treatment in the 21st century, you're able to benefit from several decades of testing and improvements that further ensure the reliability and effectiveness of titanium.
DURABILITY
With a set of dentures, you can usually expect to regain up to 25 % of your original chewing power. However, with titanium implants providing a sound foundation, you can look forward to regaining 75% of more of your functionality. That means you'll no longer have to forego eating your favorite foods.
UNEQUALLED LONGEVITY
Whereas above-gum tooth replacements typically last up to 15 years at best, titanium dental implants can function well for 30 years or more. Of course, this is dependent on them being cared for properly and the maintenance of regular dental visits.
ARE TITANIUM DENTAL IMPLANTS RIGHT FOR YOU?
The first step to experiencing the joys of having your teeth replaced with titanium implants is to visit a local dentist for a consultation. The visit will include a full assessment of your oral health and jawbone density. Additionally, you'll be provided with a detailed explanation of what to expect from the procedure. Therefore, you can make an educated decision about how to move forward with restoring your oral health and smile to excellence!
About the Author
Dr. Daniel Stearns earned his dental degree from Rutgers School of Dental Medicine. Throughout his career, he has taken several hours of continuing education, with dental implantation as a key area of focus. Dr. Stearns replaces missing teeth with dental implants at Dr. Aaronson & Associates, and he can be reached for more information or to schedule a visit through his website.